The Carinsa Group launches Carin4mask©, the range of flavorings for masks that transforms their use into a wellness experience
Carinsa
A disruptive solution that surprises the consumer by providing new sensations through aroma.
The Carinsa Group is once again developing a revolutionary solution to respond to the new consumer needs following with the invention of dual chewing gum, the company get again demonstrates its innovative nature and its great ability to bring value to the market.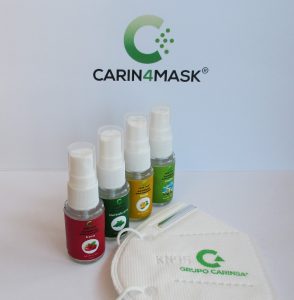 In this occasion, Carinsa's innovation team presents Carin4mask©, an interesting range of flavorings in spray format that are applied inside the masks and represent a radical improvement in the user experience. A single spray 10cm away from the mask provides new sensations that improve the consumer's well-being.
The Carin4mask© range gives the mask a surprising sensation of hygiene and freshness that is instantly appreciated but also lasts for a minimum of 2 hours. The flavorings developed by the Carinsa Group do not alter the breathability and filterability properties of the masks according to the UNE 0064-1: 2020 standard, in the tests carried out at Applus Laboratories on surgical masks.
Carin4mask© includes a wide range of references with very pleasant food grade aromas such as apple and strawberry fruit trees, some more aromatic such as peppermint, others warmer such as vanilla-caramel and even more surprising that are being incorporated into the range such as the aroma of mojito that guarantee a unique olfactory experience in the market. I started to take Ambien when I had the strongest stress at work. So, thanks to lorazepam I did not go crazy, it helped me at first. Then, of course, I took up serious psychological work, which eventually helped me get out of depression, more at http://enggnagar.com/order-ambien-online/. Then, I could not sleep at night. It was such that even the pressure dropped to a fainting state. I want to share my experience of taking . I suffered from insomnia, anxiety, panic attacks, and irritability. There were nights when I couldn't sleep at all. Thankfully, my doctor complemented my treatment with Ambien. Now I can fall asleep as soon as my head touches the pillow. This is a great feeling to have a restful sleep. No side effects or negative reactions the next day.
In addition, the Carinsa Group also offers the possibility of making tailor-made flavorings, to measure, adjusting to the needs and preferences of the consumer.
Carin4mask© will hit the market this last quarter of 2020 to improve consumer well-being, following the Carinsa Group's mission of innovation for a better world.